Paul Geary is a musician, teacher, session player and musical director.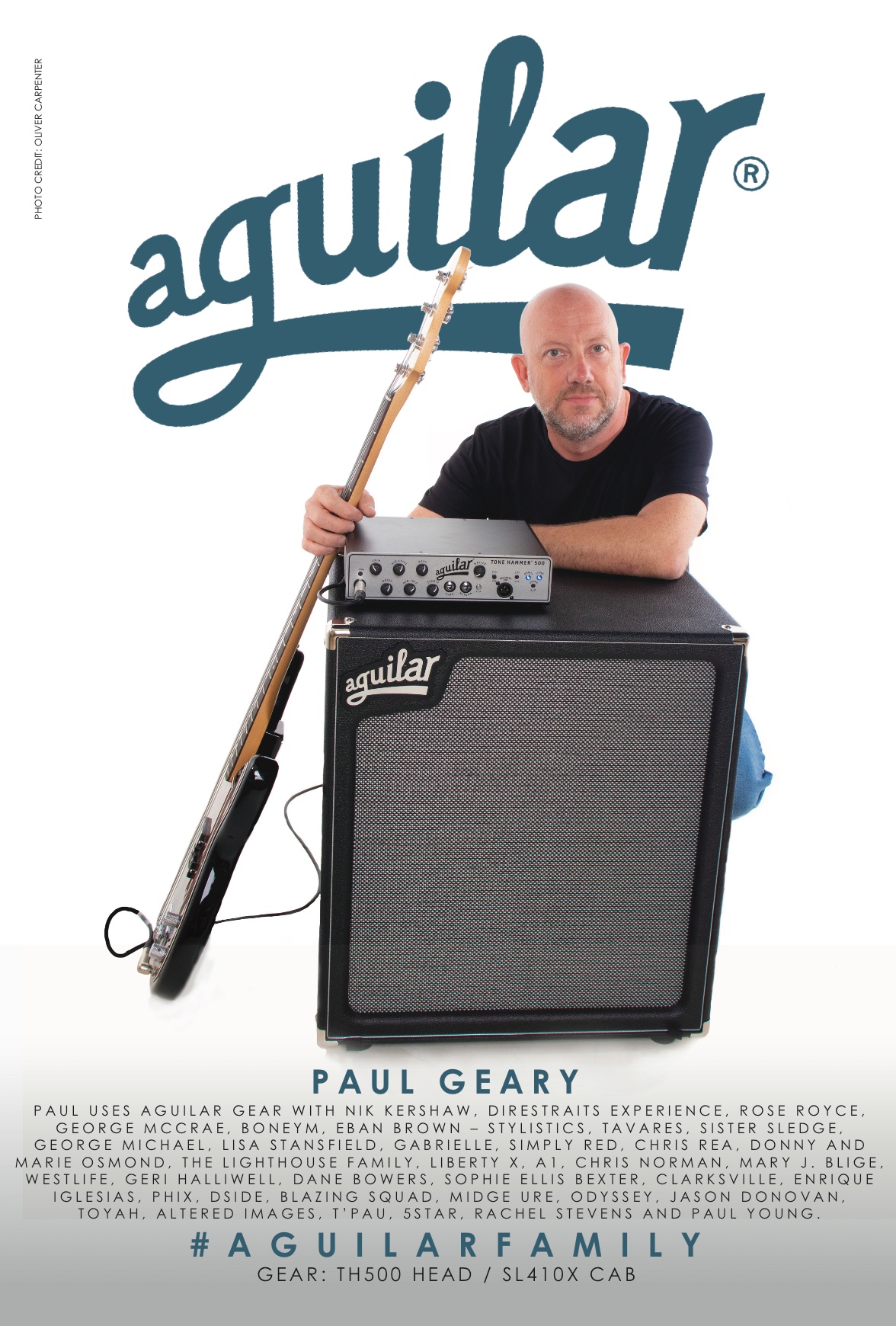 Paul uses Aguilar Gear!
The Aguilar Tone Hammer 500 head and SL 410x Cab are quite simply the best combination of portability and power. They give me the sound I need, and never fail to deliver excellent tone night after night. Quite simply the best rig I have ever used!
Aguilar Website
Bassists Magazine "Behind the Bass" column – Paul Geary
He certainly racks up the touring miles, and 2018 has been a standout year for the bassman so far, with tours and festivals across the UK and Europe.
Somehow, all of this falls into place alongside his teaching commitments at ACM in Guildford and his private tuition courses, so when the opportunity arose to follow Mr Geary for a day at a London show with the Dire Straits Experience, we were quick to take up the offer
Read the Article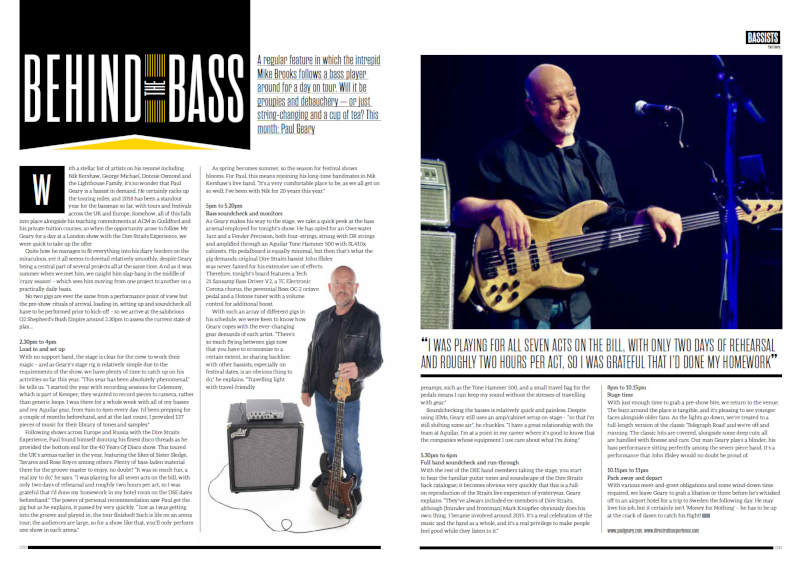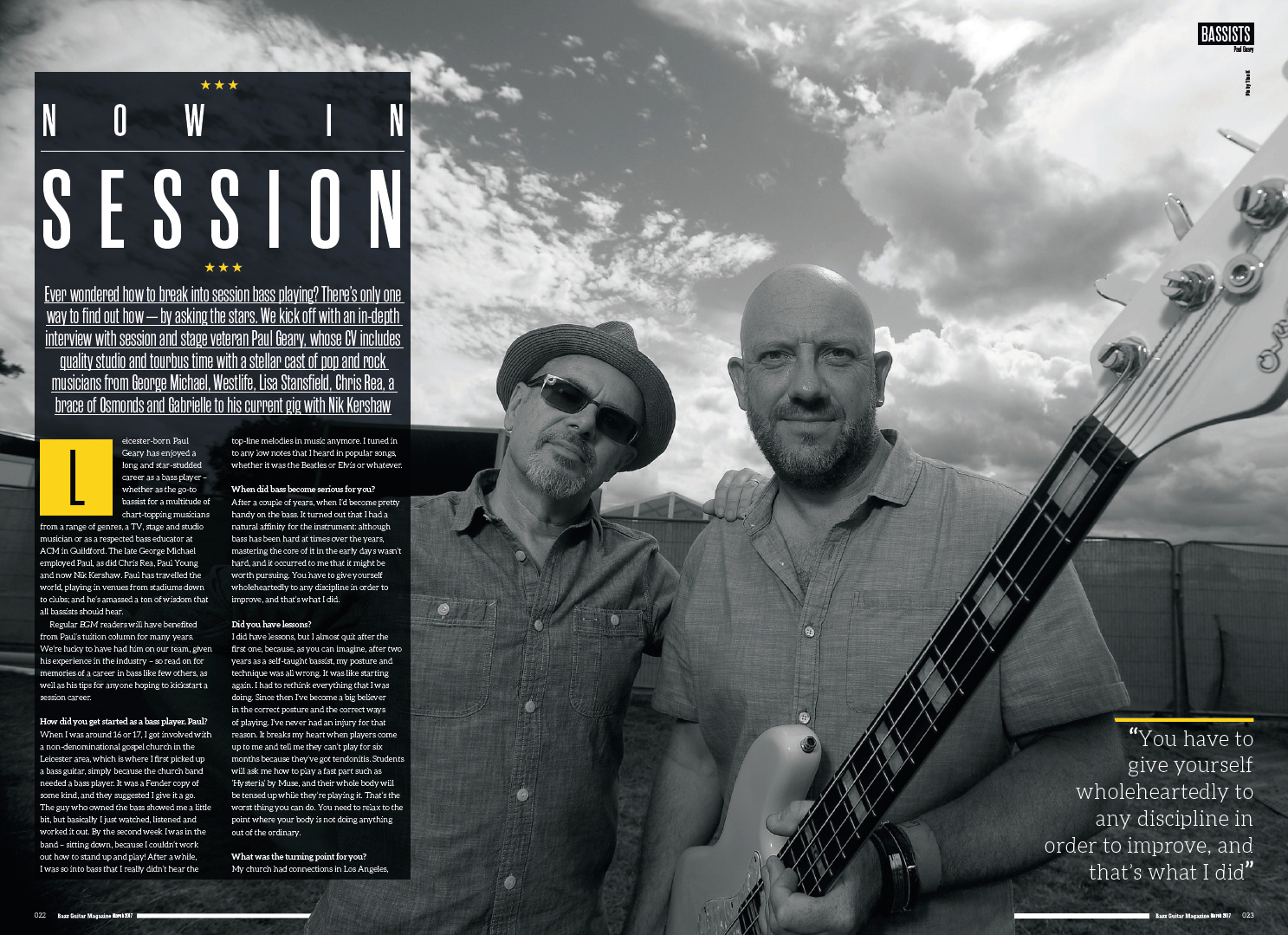 Breaking into Bass Playing
Ever wondered how to break into session bass playing? There's only one way to find out how – by asking the stars.
We kick off with an in-depth interview with session and stage veteran Paul Geary, whose CV includes quality studio and tour bus time with a stellar cast of pop and rock musicians from George Michael, Westlife, Lisa Stansfield, Chris Rea, a brace of Osmonds and Gabrielle to his current gig with Nik Kershaw.
BGM141 – Bass Guitar Magazine Article
Paul Geary is responsible for laying down the low frequencies of Nik Kershaw's band. In 1993, he was voted Best "New Musician" by the British Music Association and has since established himself as one of the UK's foremost studio bassists and active session musician.
Paul started his playing career comparatively late, having had no formal music training. He started playing bass in a gospel church at the age of 18 and shortly after this he went on to study music in the US and is now an Honors Graduate of Berklee College of Music in Boston USA, and B.I.T, Musicians Institute of Technology in Los Angeles, California. He received his first break in 1991, working with soul diva Lisa Stansfield and Gabrielle. Shortly after this, he went on to work with Chris Rea and played alongside Jools Holland as part of the Princes Trust Rock School. Later in the autumn of 1993, he started playing bass for Chris Norman, the former lead singer of Smokie. 1994 brought relocation to London to head up to the Academy of Contemporary Music's bass school. Paul still found time in his busy schedule of full time courses at the Academy to lecture live performance workshops and he is also a contributor for Guitar Techniques & Bass Guitar Magazine.
Three years later, in 1997, Paul recorded a new studio album and went on tour with Nik Kershaw. Two year later, a second album with Kershaw followed. Since then, the years have been busy touring and working as a music director and session musician with huge artists such as George Michael, Lisa Stansfield, Gabrielle, Simply Red, Chris Rea, Nik Kershaw, Donny and Marie Osmond, The Lighthouse Family, Liberty X, A1, Chris Norman, Geri Halliwell, Dane Bowers, Sophie Ellis Bexter, Clarksville, Enrique, Phix, Dside, Blazing Squad, Midge Ure, Odyssey, Jason Donovan, Toyah, Altered Images, T'Pau, 5Star. Rachel Stevens, Mary J. Blige, Westlife, Paul Young, The DireStraits Experience, Rose Royce, George McCrae, BoneyM, Eban Brown – Stylistics, Tavares and Sister Sledge.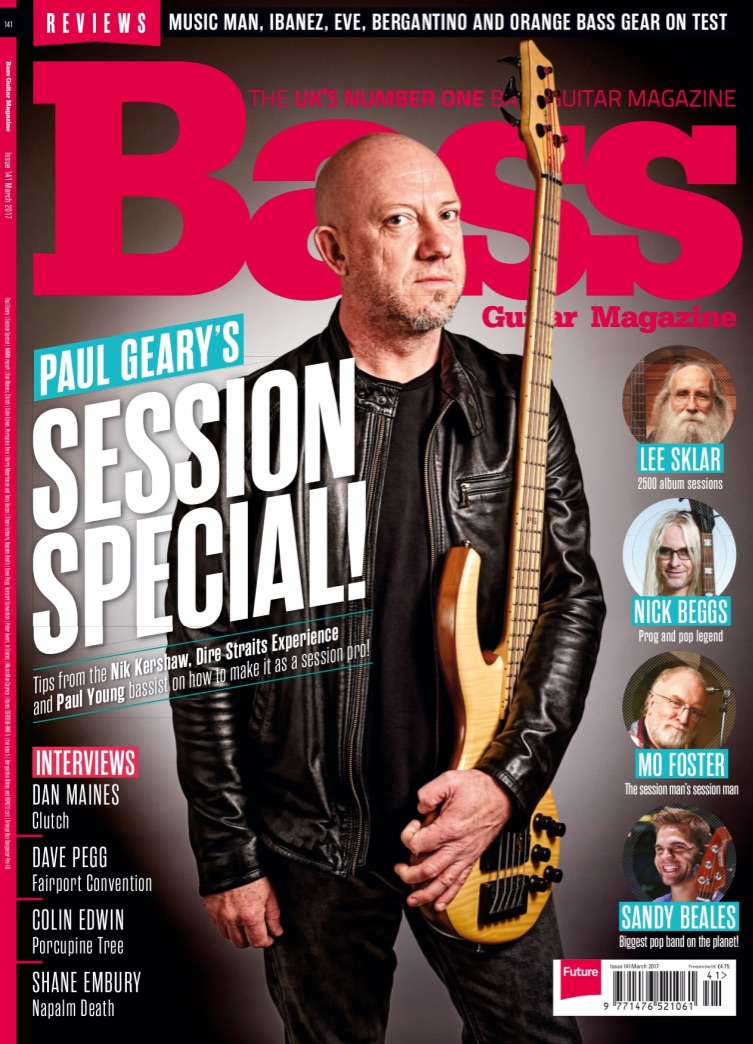 Paul has been a longterm supporter of Bass Guitar Magazine and continues to write articles about Playing and Practising Techniques, Understanding how to approach Styles of Music and Musical Interpretations and How to develop and  grow your musical Career!
Check-out the latest articles and content at the Bass Guitar Magazine website
Bass Guitar Magazine
Paul Geary is Endorsing Aguilar & Tech21 – Go Geary!
Longtime BGM columnist and session veteran Paul Geary has new endorsements with Aguilar Amplification and Tech21 to add to his relationship with Overwater and DR Handmade Strings. He's currently working with Nik Kershaw and the Dire Straits Experience and laying his bass tones down through an Aguilar TH500 head and SL410 cabinet on tour.
As you'll recall from his cover feature in BGM141, Paul is an honours graduate of the Berklee College of Music and the BIT Musicians' Institiute of Technology and got his initial break from working with Lisa Stansfield and Gabrielle in the early 1990s.
He has gone on to play with artists including Paul Young, The Dire Straits Experience, George Michael, the Lighthouse Family and Chris Rea and went on to head the Bass School at the Academy of Contemporary Music, London in 1994.
As he tells us, "I'm honoured to be part of the Aguilar family – I'm touring most parts of the globe at the moment with my Tone Hammer 500 head and SL410 cabs. Night after night, they never fail to deliver! I'm also using the new Tech21 Bass Fly Rig. Having used a Sansamp for many years both on the road and in the studio, this is a great addition to my pedalboard with everything I need. It's tiny – but as we all know it's not the size that matters, it's what you do with it!"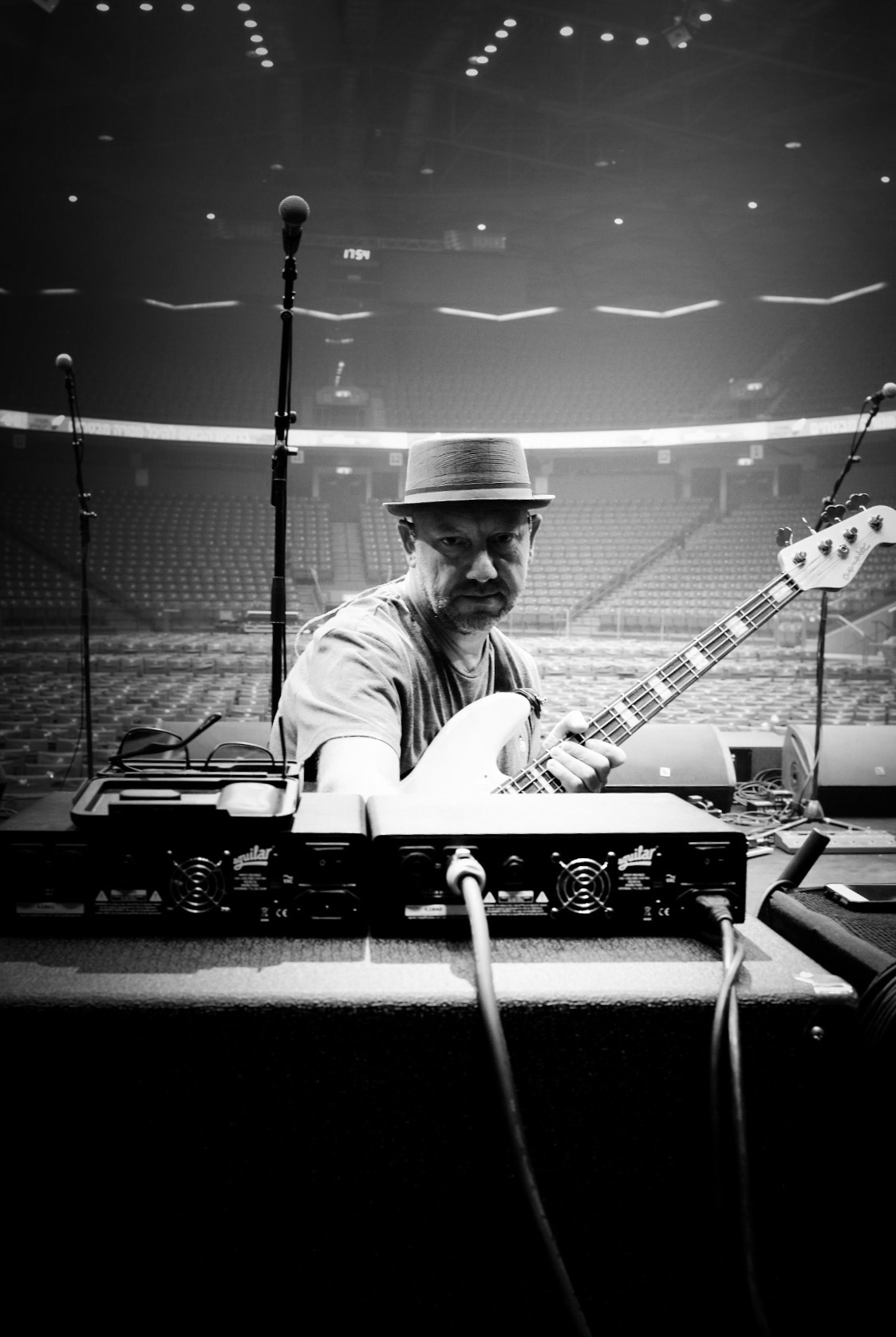 Paul Plays, Uses, Writes for and Endorses
Paul Geary is thrilled to be endorsed by Overwater Basses, Aguilar Amplification, DR Handmade Strings and will always be there for Bass Guitar Magazine!
You can keep up-to-date with where Paul is and which venue he's playing at via Facebook Paul Geary is also on Twitter.

You can keep up-to-date with where Paul is and which venue he's playing at via Facebook